Adding to its already exciting events, the 2nd edition of the Dominican Global Film Festival is honoring Elba McAllister in a special tribute celebration expected to become an annual event of the film festival, held this year from November 19-23 in five cities throughout the country.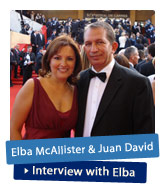 Elba McAllister is co-founder, partner and executive president of the Colombian film distribution company Cineplex, which is celebrating its 15th year of promoting alternative films in Latin America.
For these past 15 years, Cineplex has shown nearly 200 high quality films that have been viewed in film festivals around the world. Eight years ago, Cineplex increased its distribution network to the rest of Central America. Cineplex also represents many Colombian film producers and helps them market their films in Latin America.
McAllister, Executive President of Cineplex and her Vice President husband Juan David McAllister, have worked tirelessly to bring the work of such directors as Wong Kar Wai, Claude Chabrol, Agnieszka Holland and Ken Loach to the region.
"It has been a challenge to bring alternative film to Latin America in that most people have been exposed to films with million-dollar budgets, special effects and predictable endings," said Elba McAllister.
Films
As part of the planned homage, the Dominican Global Film Festival will show several Cineplex films including 8 women, Bella, Red like the Sky and My Blueberry Nights. Cineplex, in addition, is the distributor of other films in the festival: Caramel and The Band´s Visit. McAllister will also give a masters class on film distribution.

See interview to Elba McAllister
Related links: http://www.cineplex.com.co
-----------------------------------------------------------------------------------------------------------------------------------
8 Women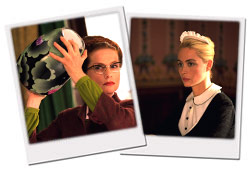 French director and screenwriter Francois Ozon achieved something outrageously funny with this good old fashioned Agatha Christi detective novel with music and cast made up exclusively of women. The film, a mystery that takes place in a country house in France, boasts a list of glamorous actresses including Catherine Deneuve, Isabelle Huppert, Emmaneulle Beart, Fanny Ardant, Virginie Ledoyen and Danielle Darrieux. When the patriarch of the family is found dead, the women of the house, without the help of the conventional detective to unravel the mystery, have to find the murderer on their own. Their unsuccessful investigation ends in recrimination, gossip and fights among them. Each one of the women has her own perverse secret that is revealed before the film's surprising climax.
Spanish Title (Español/Spanish): 8 mujeres
English Title: 8 Women
Original: 8 Femmes
Country of Origin: France, Italy
Year of Completion: 2001
Running Time: 103 min.
Format/color/BW: 35mm, color
Language: French, Spanish subtitles
Director: François Ozon
Producers: Olivier Delbosc, Marc Missonnier
Screenwriter: François Ozon
Adapted from the stage by: Robert Thomas
Cinematography: Jeanne Lapoirie
Editor: Laurence Bawedin
Music: Krishna Lévy
Cast: Isabelle Huppert, Catherine Deneuve, Emanuelle Béart, Virgine ledoyen,
Danielle Darrieux, Fanny Ardant, Ludivine Sagnier, and Firmine Richard
Director´s Biography


François Ozon was born in 1967 in Paris. With his master's degree in Cinema (Paris I), he enters the French famous school of cinema La FEMIS in the director section in 1990. Action Vérité (Truth or Dare) is the beginning of his collaboration with Fidélité Productions. Une Robe d'été (A Summer Dress) gets the "Léopard de Demain" Award at Locarno. Sitcom, his first feature, is in competition in the Official Selection of Cannes International Week of Film Critic in the Cannes Festival in 1998. Other features are Swimming Pool (2003), Time to Leave (2005) y Angel (2007).
-----------------------------------------------------------------------------------------------------------------------------------
Bella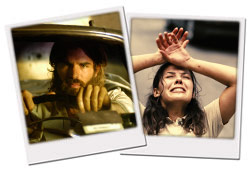 In Bella, the directorial feature debut from Alejandro Monteverde, José is a soccer star on his way to sign a generous professional contract when a horrible event brings his shining future to a halt. Years later, we find José working as the silent and reserved chef in his brother Manny's upscale restaurant in New York. One day Manny fire the repeatedly tardy waitress, Nina. Although José barely knows her, he runs after her, comforts her, and decides to spend a day with her that will ultimately change each of them forever. Bella was honored at the Toronto Film Festival with the People Choice Awards.
FILM TITLE (Spanish): BELLA
FILM TITLE (Original): BELLA
FILM TITLE (English): BELLA
COUNTRY OF ORIGIN: USA
YEAR OF COMPLETION: 2006
RUNNING TIME: 91min
FORMAT/COLOR/BW: 35mm / Color
LANGUAGE: English/Spanish Subtitles
Director: Alejandro Monteverde
Producer/s: Sean Wolfington, Leo Leo Severino, Denise Pinckley
Executive Producer/s: Eustace Wolfington, Ana Wolfington, Stephen McEveety
Screenwriter: Alejandro Monteverde, Patrick Million, Leo Severino
Cinematography: Andrew Cadalago
Editing: Fernando Villena
Music: Stephan Altman
Cast: Eduardo Verástegui, Tammy Blanchard, Manny perez, Ali Landry,
Angélica Aragón, Jaime Tirelli, Jamon Rodriguez
DIRECTOR'S BIOGRAPHY


Alejandro Monteverde is an award winning director from the university of Texas where he broke the record by winning seventeen awards at film festival while still in school. Bella is his first feature film after graduating from film school. He is a partner and producer in Metanoia films.
-----------------------------------------------------------------------------------------------------------------------------------
My Blueberry Nights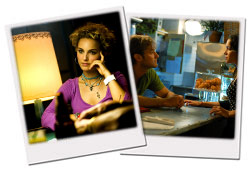 In Wong Kar Wai's debut English language feature, the internationally acclaimed director takes his audience on a dramatic journey across the distance between heartbreak and a new beginning. After a rough break-up, Elizabeth (played by singer Norah Jones in her screen debut) sets out on a journey across America, leaving behind a life of memories, a dream and a soulful new friend — a café owner (Jude Law) — all while in search of something to mend her broken heart. Waitressing her way through the country, Elizabeth befriends others whose yearnings are greater than hers, including a troubled cop (David
Strathairn) and his estranged wife (Rachel Weisz) and a down-on her luck gambler (Natalie Portman) with a score to settle.
FILM TITLE (Spanish): El sabor de la noche
FILM TITLE (Original): MY BLUEBERRY NIGHTS
FILM TITLE (English): MY BLUEBERRY NIGHTS
DIRECTOR: Wong Kar Wai
COUNTRY OF ORIGIN: China
YEAR OF COMPLETION: 2007
RUNNING TIME: 111 min
FORMAT/COLOR/BW: 35mm / Color
LANGUAGE: English/Spanish subtitles
Director: Wong Kar Wai
Produced by: Wong Kar Wai, Jacky Pang Yee Wah
Executive Producer: Chan Ye Cheng
Screenwriter: Wong Kar Wai, Lawrence Block
Cinematography: Darius Khondji
Editing: William Chang Suk Ping.
Music: Ry Cooder
Cast: Norah Jones, Jude Law, David Strathairn, Rachel Weisz, Natalie Portman
DIRECTOR'S BIOGRAPHY


His first film AS TEARS GO BY was screened as part of the 'Critics' Week' at the 1989 Cannes International Film Festival. It was followed by DAYS OF BEING WILD , ASHES OF TIME, CHUNGKING EXPRESS, FALLEN ANGELS, HAPPY TOGETHER (won the 97 festival's Best Director Award in Cannes), IN THE MOOD FOR LOVE (Cannes competition- Tony Leung Chiu-wai won Best Actor prize), 2046.
-----------------------------------------------------------------------------------------------------------------------------------
Red like the Sky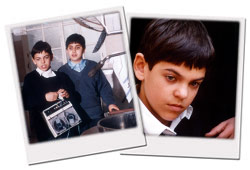 Based on the life of renowned sound editor Mirco Mencacci and set in Tuscany, this inspiring tale recounts a blind youth's personal battle to overcome not only his disability, but also the doubts and preconceived notions of society. In 1970, Mirco's happy childhood comes to an abrupt end when an accident in his home leaves him blind. Italian laws of the time regarded blindness as a handicap so his parents are forced to send him to a special boarding school for sightless boys run by the Catholic Church in Genoa. Rebellious and fearless, Mirco befriends the gatekeeper's daughter and steals away with her on bicycle rides into the town. They even go to the cinema. Inspired by a true story, it is the first feature film ever co-written by a sightless person. Audience Award, São Paulo Film Festival.
FILM TITLE (Spanish): ROJO COMO EL CIELO
FILM TITLE (Original): ROSSO COME IL CIELO
FILM TITLE (English): RED LIKE THE SKY
COUNTRY OF ORIGIN: Italy
YEAR OF COMPLETION: 2006
RUNNING TIME: 96 mins
FORMAT/COLOR/BW: 35mm, Color
LANGUAGE: Italian, with Spanish subtitles
Director: Cristiano Bortone
Producers: Daniele Mazzocca, Cristiano Bortone
Editor: Carla Simoncelli
Screenwriters: Monica Zapelli, Cristiano Bortone, Paolo Sassanelli
Cinematographer: Vladan Radovic
Music: Ezio Bosso
Cast: Luca Capriotti, Paolo Sassanelli, Marco Cocci, Francisca Maturanza
DIRECTOR'S BIOGRAPHY


Producer/Director Cristiano Bortone graduated from UCLA and NYU, and has directed 3 feature films and several award winning documentaries. In 2006 he was nominated "Best producer" at the Italian Nastri d'Argento Award for the film Saimir which also won a Special mention at Venice Film Festival, and was a candidate for Best first film at the European Film Awards and at the David the Donatello Awards. Bortone is a member of the European Film Academy.