An Even Grander Finale than Ever
Newly Honored Liza Minnelli brings down the Curtain on Fourth DR Global
Film Festival
Santo Domingo, November 22, 2010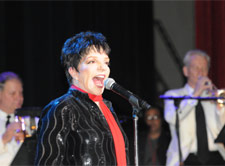 The Fourth Dominican Republic Global Film Festival ended Monday 22 on a high note with fundraising concert by star of stage and screen Liza Minnelli. President Leonel Fernandez that afternoon had just added "Officer of the Heraldic Order of Christopher Columbus" (Orden Heráldica de Cristóbal Colón en el Grado de Oficial) to her three Tony Awards, an Oscar, an Emmy, two Golden Globes and a Grammy Legend Award.
Singing to an enthralled audience at the crowded National Theatre in Santo Domingo Minnelli began with some soulful Spanish numbers before moving on to her repertoire of songs old and new,  from Blues to Broadway, including a foretaste of her forthcoming album Confessions.
As Shakespeare wrote of Cleopatra, "Age cannot wither her, nor custom stale her infinite variety." The star, who has suffered debilitating illness and battled back to strength to resume her performing career, certainly lived up to the expectations of her devoted fans in the audience giving a high energy performance in English and Spanish and interacting with the enthusiastic fans in the audience, including a song from the show "Chicago" that was not in the film and a spirited rendering of New York New York! which she dedicated to none other Nicole Fernandez, President's daughter.
Two standing ovations and an encore, with the appropriate and emotional Every Time We Say Good bye brought the event to its finale for this year, but the funds raised by the event will help ensure the success of the Fifth DR Global Film Festival next year.




See additional photos of this event in our Photo Gallery
Santo Domingo - Liza Minnelli - Teatro Nacional - Nov. 22, 2010 >