Dominican Republic Global Film Festival Team at Cannes 2010
Cannes, May 15 - 2010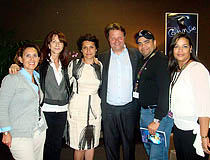 As part of their ongoing efforts to develop contacts and participation opportunities in film festivals worldwide, the management team of the Dominican Republic Global Film Festival (DRGFF) recently met with their counterparts from the Cannes Film Festival.

The management team of the Dominican Global Film Festival met for 25 minutes with their Cannes counterparts Jerome Paillard, Executive Director of the Cannes Film Festival and Myriam Arab, Director of Operations, Marketing and Sales to exchange ideas and coordinate the possible official participation of the Dominican Republic in the Cannes Festival of 2011.

The meeting took place in Mr. Paillard's office on Saturday May 15 within the framework of the 63rd edition of the Cannes Film Festival. Those representing the DRGFF included the Festival's Technical Director, Omar de la Cruz; Asunción Sanz, Director of Inter-Institutional Relations; Yvette Marichal, Director of Public Relations and Marketing; Taína Rodríguez, Publicity Coordinator and Nicole Guillemet, DRGFF Programming Consultant, who was also responsible for the meeting.

In preparation for the IV edition of the Dominican Global Film Festival, to be held in November, the festival team participates, throughout the year, in the most important film festivals in Europe and America.

In addition to the Cannes Film Festival, the DRGFF team has, so far, attended Sundance, the Berlinale, Cartagena de Indias Film Festival, Miami International Film Festival, Guadalajara and the Tribeca Film Festival.

The team's presence at the various film festivals provides an opportunity to establish direct contact with producers and actors as well as to become familiar with high quality films to bring to the Dominican Republic where people from all walks of life can benefit and enjoy them along with round table discussions and panels with actors, producers and film industry professionals from around the world.


The next edition of the DRGFF is scheduled for November 16-22, 2010 when it will show films simultaneously in five Dominican cities: Santo Domingo, Santiago, Cap-Cana, Puerto Plata and Nagua.

Now in its 63rd year, the Cannes Film Festival is a must for those interested in getting to know the latest in films and tendencies of the movie industry and meeting filmmakers in training and those already making their mark.

The Marché du Film also provides a venue for professional interchange and meetings, while at the International Village, filmmakers from around the world can show their work at the pavilion.