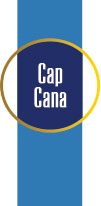 Cap Cana is located on the eastern tip of the Dominican Republic, just seven minutes away from the Punta Cana International Airport. It is an exclusive, luxurious tourism and real estate community known for its ambitious dimensions, impeccable array of services and amenities, and incomparable architectural design that blends perfectly with its surrounding beauty.
It is regarded as the most important resort, hotel, and real estate development in the Caribbean; bettering the natural characteristics of any world class development with a quality of life where active lifestyles reignite to take hold of spectacular golf courses, deep sea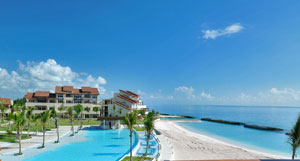 fishing, and nature trails.
Cap Cana is home to the Punta Espada Golf Course. Designed by Jack Nicklaus, Punta Espada has been home to the PGA Tours Champion's Tour for three consecutive years, and has been listed by Golfweek as the Number One Course in the Caribbean and Mexico for four consecutive years. Cap Cana's fully operational Marina, surrounded by elegant shops and gourmet restaurants, harbors boat slips available for yachts up to 180 feet in length. Cap Cana also offers world class spas, exclusive memberships to exquisite clubs, a wide variety of activities and amenities, and an education district which includes the country's leading private school and university campus - the multilingual Cap Cana Heritage School and UNIBE (Universidad Iberoamericana) University.
It is filled with luxury accommodations for its visitors, including: the Sanctuary Cap Cana Golf & Spa; the Fishing Lodge; the Eden Roc boutique hotel; the world renowned Caleton Villas; Sotogrande at Cap Cana; and Golden Bear Lodge, further to Cap Cana's condominium units and villas already finished and available to rent.
Cap Cana's infrastructure and utilities are second to none, with power-generation facilities including 34 megawatts of energy already installed, 46 kilometers of paved roads, and 21 more kilometers in the process of completion. Cap Cana's property is also equipped with modern water, irrigation, and sanitation grids, along with a cutting edge fiber optic telecommunications network.
Blessed with pristine white sand beaches and year-round sunshine, Cap Cana's natural beauty makes it a versatile tourist destination: The ocean, the beach, the cliffs, and the tropical forests combine together to make Cap Cana an exquisite natural asset.
The Festival will hold its traditional "Movies under the Stars" in the Fishing Lodge of this prestigious vacation complex, giving viewers great cinema to be enjoyed along with the exquisite warm breezes in the Dominican Republic's most eastern point.
FISHING LODGE

Fishing Lodge Cap Cana, the highly anticipated luxury resort development on the Eastern tip of the Dominican Republic, opened to guests as a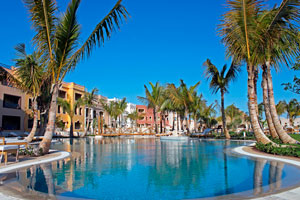 Salamander Marina & Beach Resort on October 12, 2011.
Fishing Lodge includes over 302 spacious, Mediterranean villas, 220 of which are available to resort guests, with stunning marina views and designer furnishings. Villa owners and resort guests have access to the nearby secluded beach, a delightful two-minute ride by private watercraft.
The Lodge is located within a masterfully designed seaside village which surrounds the largest inland marina in the Caribbean and includes two restaurants, two bars, four pools, a chapel and elegant boutiques on both Main Street and the plazas. Fishing Lodge residents and guests also could enjoy children's activities, boat rentals, sport fishing and nautical provisioning.