Santo Domingo, November 20, 2012
Fashion is Also Freedom of Expression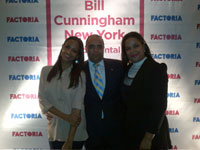 Fashion as freedom of expression is the underlying theme of Richard Press's documentary, Bill Cunningham New York, screened at the 1st Fashion Film Showcase, sponsored by the Factoría magazine, as part of the VI Dominican Global Film Festival (FCGD).

At the Agora Mall's Palace Cinema, viewers saw the final film of this new addition to the FCGD. The documentary is about Cunningham's chronicle of fashion trends on the streets of New York City as well as high society charity gatherings for the Times Style section. The film attests to the freedom of fashion expression that New York residents and visitors feel in this fashion-minded city.
Dominican Global Film Festival and Pandora Magazine Team Up for the First Fashion Film Showcase
The Dominican Global Film Festival (FCGD) and Pandora magazine opened this first ever Fashion Film Showcase at the Agora Mall with the documentary, The Tents...
read complete article