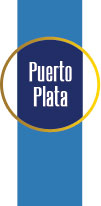 Bathed by the waters of the Atlantic Ocean, Puerto Plata is one of the country's main tourism spots where people come to enjoy its 125-kilometer coast, known as the "Amber Coast." Puerto Plata's hotel and rum industry add to the attraction.
Puerto Plata's community, made up of immigrants from various places, is home to one of the country's most diverse cultural centers.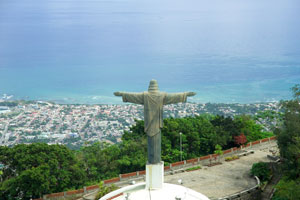 On a daily basis, Europeans, North Americans, Dominicans and visitors from many other countries converge in Puerto Plata's main plaza and seaside boardwalk, known as the malecón.
Puerto Plata will host the Dominican Global Film Festival at the Auditorium of the Regional University Center of the Atlantic (CURA) and and the Amhsa Grand Paradise Hotel with its "Cinema under the Stars". In Puerto Plata the gold coast will merge with the celluloid of the film screens.

Centro Universitario Regional del Atlántico (CURA)
This is an extension of the Autonomous University of Santo Domingo in Puerto Plata and has been functioning since August 2006. It serves over 2,000 students at its main campus of 35,000 square meters in a series of buildings with classrooms on three floors. There are 72 classrooms in all and three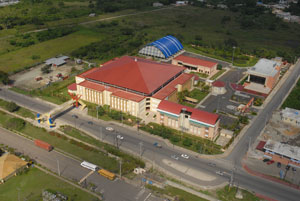 laboratories of Science, Tourism and Law. It also has ample plazas and gardens along a lake that forms part of this building's beautiful landscape. The Dominican Global Film Festival will use the 360-seat auditorium to screen films for those who attend this most important film event in the country.
Playa Dorada
Thanks to the support of one of our patrons, "Amhsa Marina," the Dominican Global Film Festival will be held along the shores of the Amber Coast, honoring the name of this beautiful beach. The Grand Paradise Playa Dorada will be the venue to view films under the stars with the background sound of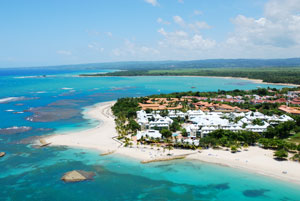 the Atlantic Ocean.
Playa Dorada is located twenty minutes from Puerto Plata International Airport and some fifteen minutes walking from the center of the city.