Santo Domingo, Nov 20, 2012
Dominican Global Film Festival and Pandora Magazine Team Up for the First Fashion Film Showcase
The Tents kicks off the Fashion Film Showcase where high style is the protagonist.
(Santo Domingo, November 20, 2012).- The Dominican Global Film Festival (FCGD) and Pandora magazine opened this first ever Fashion Film Showcase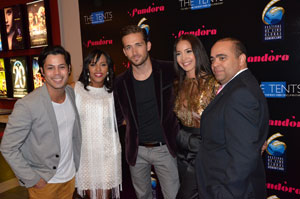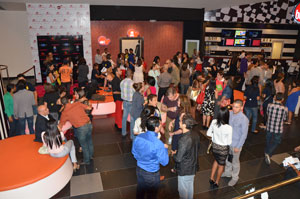 at the Agora Mall with the documentary, The Tents.
James Belzer, director of The Tents, was on hand for the opening event where he told the viewers he was happy to share his film with the new section of the FCGD.
The Tents documents the birth and history of the vast tent area, which served for 18 years as the venue for New York City's Fashion Week. The film takes us backstage into the dressing rooms for interviews with some of the best-known protagonists in the world of style.
Omar de la Cruz, Director of the FCGD, gave the welcoming words in which he stressed that fashion, in one way or another, is part of daily life. "Fashion is film, television and radio." De la Cruz also announced that, from now on, the Fashion Film Showcase will be an integral part of the Dominican Global Film Festival.
Carlos Lamarche, TV host and image and style advisor, thanked Mr. de la Cruz and the FCGD in the name of Pandora magazine for mounting the showcase. He said the event was conceived with the idea of bringing films and documentaries from around the world of fashion to the general public in the Dominican Republic.
Mr. Lamarche, host of "Por amor al arte" (For the Love of Art) and "Radio Moda" (Fashion Radio) said The Tents was chosen because it shows how New York, in the beginning, was not initially high up on the fashion radar, but thanks to Fashion Week, it became one of the most important style centers in the industry.
Lamarche pointed out that Dominican Fashion Week in Santo Domingo, now in its seventh year, is gaining in importance.  He pointed out that, through film, individuals can learn more about the origins and trends of this fascinating world.
The opening of the first FCGD Fashion Film Showcase was sponsored by Pandora magazine. The gala opening was celebrated with a pink carpet where guests were greeted by Airam Toribio, director of El Caribe's magazine.
Representatives of the Dominican fashion industry, national and international designers as well as actors and directors who took part in the VI Dominican Global Film Festival attended this inaugural event. FCGD guests included Juan Carlos Arciniegas, of CNN; actors Gina Rodríguez and Mauricio Henao and the renowned acting coach, Ivana Chubbuck.