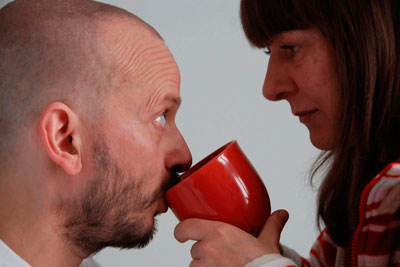 TITLE (ORIGINAL): Halt auf freier Strecke
TITLE (English): Stopped on Track
DIRECTOR: Andreas Dresen
COUNTRY: Germany
YEAR: 2011
LENGTH: 110 min
COLOR/B/W: 35 mm/ Dolby Digital / Color
LANGUAGE: German with Spanish subtitles
CREDITS
Director: Andreas Dresen
Producer: Peter Rommel
Executive Producer: Peter Hartwig
Script : Andreas Dresen & Cooky Ziesche
Cinematography: Michael Hammon
Editor: Jörg Hauschild (Montaje/Montage)
Composer: Jens Quandt
Sound Designer: Peter Schmidt
Cast: Milan Peschel, Steffi Kühnert, Talisa Lilly Lemke, Mika Nilson Seidel, Ursula Werner 
FILM SYNOPSIS
"Stopped on Track" is the story of a family facing huge loss. Frank, 40, is a Medical Diagnostician and father and has been diagnosed with an incurable disease. Frank and Simone have two children. They are a normal family, a solid couple and a generally harmonious life. Upon receiving this news, all their plans have come to a standstill: their work projects, the new house they just moved into, dreams of traveling, music. But, life goes on and family member try to assimilate this new reality into their work, school and at home.
Director's Biography
Andreas Dresen, born August 16, 1963 in Gera, Germany. Has been working as a German film director since 1989. Dresen is known for his open film technique, which is often based on improvisation, resulting in films with realistic characters making the movie seem like it is a documentary. He won various prizes for his work, including the "German Film Award," "European Film Award" and the Cannes Un Certain Regard Award for "Stopped on Track"..