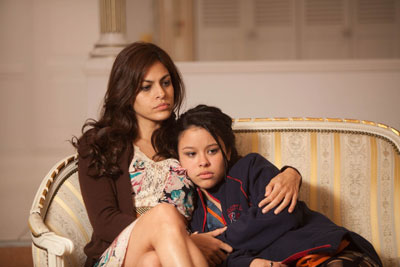 TITLE (ORIGINAL): Girl In Progress
FILM TITLE (English): Girl In Progress
DIRECTOR: Patricia Riggen
COUNTRY: U.S.
YEAR: 2012
LENGTH: 93 min
FORMAT / COLOR /BW: 35mm, Color
LANGUAGE: Inglés con subtítulos en español
CREDITS
Producers: John Fiedler, Ben Odell
Executive Producers: Greg Coote, Robert Lundberg, James M. McNamara
Screenwriter: Hiram Martinez
Cinematographer: Miguel Bunster
Editor: Dan Schalk
Cinematographer: Checco Varese
Cast: Eva Mendes, Cierra Ramirez, Patricia Arquette, Matthew Modine, Eugenio Derbéz
FILM SYNOPSIS
Single mother Grace (Eva Mendes)—born Altagracia, "but the white man can't pronounce it"—toils as a maid and a waitress to keep her petulant daughter, Ansiedad (Cierra Ramirez), in private school in Seattle. Although the teenager's name translates as "anxiety," she exhibits no fear or apprehension when, inspired by an English class on rites of passage taught by Patricia Arquette, she decides to plot a series of coming-of-age crises that will supposedly expedite her entry into adulthood with the help of her only friend, wealthy, chubby Tavita (Raini Rodriguez). "Girl in Progress" is an old story about a young girl told in a smart way, and that's something you don't see every day, no matter how many times you think you've seen it before.
Director's Biography
Director / Producer / Writer born in Mexico. Directed the award winning first feature film "Under the Same Moon" ("La misma luna") in 2007. "Girl in Progress" is her second feature.