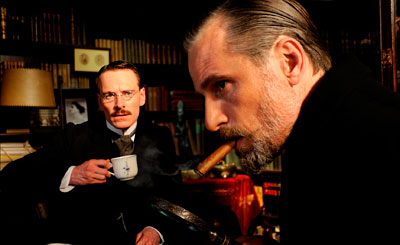 TITLE (ORIGINAL): A Dangerous Method
TITLE (English): A Dangerous Method
DIRECTOR: David Cronenberg
COUNTRIES:France, Ireland, UK, Germany, Canada
YEAR: 2011
LENGTH : 93 min
FORMAT / COLOR/B & W: 35mm, Digital / Color
LANGUAGE: English with Spanish subtitles
CREDITS
Producer: Jeremy Thomas
Executive Producers: Stephan Mallmann, Karl Spoerri, Thomas Sterchi, Peter Watson, Matthias Zimmermann
Screenwriter: Christopher Hampton
Cinematographer: Peter Suschitzky
Editor: Ronald Sanders
Composer: Howard Shore
Cast: Keira Knightley, Viggo Mortensen, Michael Fassbender, Vincent Cassell, Sarah Gadon, André Hennicke
FILM SYNOPSIS
The young psychiatrist Carl Jung (Michael Fassbender) and his mentor Sigmund Freud (Viggo Mortensen) are seeking the best technique for treating patients who demonstrate the most difficult psychological problems. Then along comes Sabina (Keira Knightley), a very disturbed patient who threatens to overturn the two doctors' theories as well as destroy their relationship.
Cronenberg brings us an intellectual film with touches of mystery and sensuality. A Dangerous Method questions not only the rigid society of the early 20th century but also enables us to assimilate the lack of control that exists when we find ourselves face-to-face with carnal knowledge.  
Director's Biography
David Cronenberg, born in Canada did his cinematic studies at the University of Toronto where he directed his first short films. He has won various Genie Awards in Canada. His films include "Spider", "Videodrome", "A History of Violence", "Eastern Promises", "Naked Lunch", "Crash", "Friday the 13th", "The Dead Zone", among others. .