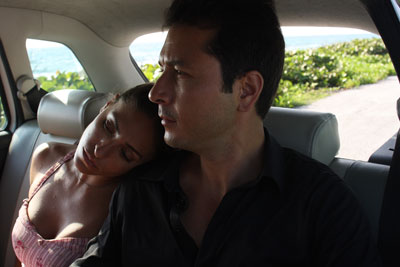 TITLE (ORIGINAL): VENTANAS AL MAR
TÍTULO/TITLE (English): Windows to the sea
DIRECTOR: Jesús Mario Lozano
COUNTRY: México
YEAR: 2012
LENGTH: 101 min
FORMAT/ COLOR/B/W: Digital / Color
LANGUAGE: Spanish
CREDITS
Director: Jesús Mario Lozano
Producer: Marco Polo Constandse
Executive Producers: Avelino Rodriguez, Eamon O'Farril, Leonardo Zimbrón
Script: Jesús Mario Lozano               
Cinematography: Juan José Saravia             
Editor: Oscar Figueroa Jara
Music: Fred Saboonchi
Sound design: Alejandro de Icaza               
Cast: Fernando Guillén, Charo López, Raúl Méndez, Natalia Córdova, Guillermo Ríos, Antonio de la Vega    
FILM SYNOPSIS
This is the story of an unexpected encounter between a couple of young Mexicans and two elderly Spaniards who meet on a beach in Cozumel, Mexico. They will live an intense experience out at sea together, that will change them forever.
Director's Biography
Jesús Mario Lozano holds a PhD in Philosophy, specialized in Communication Studies, from the European Graduate School in Saas-Fee, Switzerland. In 1996, he earned his Master's Degree in Performance Studies at The Central School of Speech and Drama of London, with a scholarship from the British Council. He worked as an intern at FONCA in the area of screenwriting and been awarded various prizes and scholarships from PROMOCINE and FONECA.