Santo Domingo, Nov 18, 2012
Latin Heart Throbs Meet and Greet their Fans at the Agora Mall
(Santo Domingo, nov 18, 2012).-The newly-opened Agora Mall in Santo Domingo hosted a group of special guests today and their adoring fans that lined up for photo ops, hugs and autographs.
The Latino TV stars, invited by the VI Dominican Republic Global Film Festival (FGCD), included Juan Pablo Llano (Colombia), Fernando Carrillo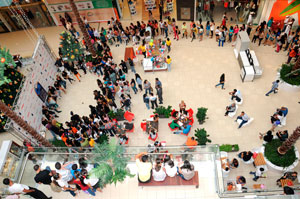 (Venezuela), Mauricio Henao (Venezuela), Arap Bethke (Mexico), Martin Gonzalez Dominican Republic), Juan Fernandez  (Dominican Republic) and Robmariel (Dominican Republic).
"This is great to be in direct contact with our fans. It is the best thing in your career, to feel the love, to share the love," said Juan Pablo Llano, who started off as a model and has since gotten into acting.  Pablo is here with the film, Desconocidos. "I love my fans…I work for them."
Fernando Carrillo, Venezuelan heart throb whose success in TV series and now film has propelled to move to Los Angeles where he hopes to pursue a crossover career and break into American films. While talented, good-looking, well-educated in London, he nevertheless thanks God for his success. "I am very blessed to have God in my life," said Fernando as a lovely Dominican teenager fell into his arms for her turn for a photo-op. "I am definitely blessed."
It was not just the young actors and models on display for their adoring public. The internationally respected and seasoned Dominican actor, Juan Fernandez held his own among the other Latino actors. I asked how it felt to have so many, mostly female, fans waiting in line for a photo with him or just a warm hug.
"It feels wonderful! It's glorious to be in my country where my mother is buried and to see and feel this love from my own people. It's all about the love," said a beaming Fernandez.