Santo Domingo, Nov 20, 2012
Prima Passi Preschool Joins the Film Line-Up of the VI Dominican Global Film Festival
(Santo Domingo, Nov 20, 2012).-As part of the film line-up of the VI Dominican Global Film Festival, guests, parents and anyone else with an interest in short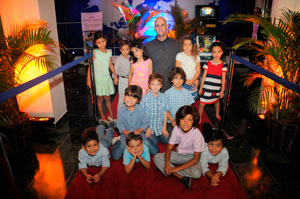 films made by short people had a special treat on Monday at the FUNGLODE auditorium.
Santo Domingo's Primi Passi Preschool screened its first short film that was written, storyboarded, produced and acted in by 26 school children between the ages of 4 and 6.
The 15-minute, marvelously shot and edited film, Tree Man, is about the guardians of the forest who find a mysterious package in the woods. They open it and find a potion inside which they think will help the trees produce more fruit. But when they sprinkle the potion on a tree, it causes it to transform into a "tree man." The tree man is grumpy, however, because the animals of the forest keep him up at night with all their chatter, so he decides he is going to get rid of them all.
"At this point in the filming, when I wake up all crabby and strange, a couple of the children burst into tears and we had to take them out of this scene," said Luis Garrido, or Tree Man, whose excellent make-up and the fact that he at least 6'4" tall, made for a very convincing tree.
The adaptation of the script and acting was done by the same children, with guidance from their teachers and a production team. The children participated in the entire process through extensive conversations with the storyboard artist and the director, Fernando Rivas. The children also closely observed production details and editing of the film, explained Raquel Garrido, Primi Passi Preschool Director.
"At first we thought to just do a play but then we decided to make a film so they could see it and see themselves. Of course, they loved that," explained Ms. Garrido at the FUNGLODE screening.

"And since the movie ends with the Tree Man waking up, the children are already talking about the sequel," she said.
The Tree Man was filmed in the Botanic Gardens of Santo Domingo, explained the Tree Man himself.
"The film contains an environmental message and a call for awareness, especially for children, so they understand how our actions affect the balance of the ecosystems," said Luis Garrido.

Tree Man is the culmination of a research project on forests, which was undertaken by "Los Grandes" (a group of 31 children between 4 and 6 years old) from the Primi Passi Preschool. The project began in October 2010. Tree Man was first shown on June 11, 2012.
Stay tuned for the sequel!