Santo Domingo, Nov 19, 2012
Actors Never Stop Training, Says Acting Coach
Renowned acting coach, Ivana Chubbuck, gave a workshop as part of the VI Dominican Global Film Festival's Panel Series
(Santo Domingo, November 19, 2012). The well-known teacher and acting coach, Ivana Chubbuck, gave an acting workshop as part of the VI Dominican Global Film Festival. She stressed the use of techniques based on exercises inspired by human behavioral science.
She told workshop participants at FUNGLODE's Juan Bosch Library that actors never stop training, that every new experience is a new color. She said actors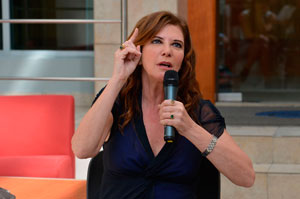 should enhance their work by converting the energy produced in bad moments into positive energy.
Ms. Chubbuck defined acting as a physical form of art as well as a form of therapy for many people, helping them let go of their pain.
She said pain is universal and that, as actors, one has to work to get these painful experiences out of the subconscious and turn them into positive energy. "There is nothing more important than feeling hopeful that things can change and that you can be It is impossible to change the past, she said, but you can use the accumulated emotions to propel you onto a successful path. "Dramatic things happen in our lives, we just have to know how to use them," said Chubbuck.
Chubbuck is the founder and director of the Ivana Chubbuck Studio and creator of the cutting edge and widely used Chubbuck Technique which is a course of 16 classes given in her studio that go from beginning level to master classes. The Chubbuck Studio focuses on production and on promoting actors who work in the rigorous field of professional acting. Her mission is to train her students and give them the tools to achieve success and make dynamic decisions with the strength and power in their own work.
Some of the actors that have worked with Ivana overs the past thirty years of her career include Oscar winners and nominees: Halle Berry, James Franco, Charlize Theron, Brad Pitt, Jake Gyllenhaal, Jon Voight, Kate Hudson, Elisabeth Shue, Catherine Keener, Djimon Honsou and Terence Howard.
Ivana also wrote "The Power of Acting," published in October 2004 by Penguin Books. For more than a year, the book was number one in sales at Barnes and Noble. Currently the book is being adapted for use as a textbook in many colleges and universities in the United States. It has been translated into numerous languages including, Spanish, Hebrew, Romanian, Italian and Danish.