GERMANY
The Dominican Global Film Festival and the Fundación Global Democracia y Desarrollo (FUNGLODE) is proud to introduce Germany as this year's invited Guest of Honor. We are also pleased and honored to have an excellent selection of films from this European nation as part of the screenings we will be showing throughout the week to the great delight of Dominican audiences.

Thanks to support from the Embassy of the Federal Republic of Germany in Santo Domingo, the German Dominican Center and the Goethe Institute of Mexico,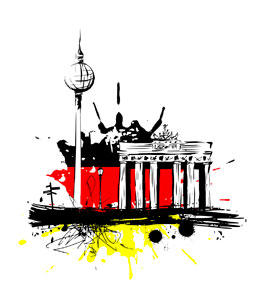 Festival audiences will take part in the viewing of new German productions that have achieved popularity and success at other important film festivals around the world.

Germany (or Deutschland in German), officially the Federal Republic of Germany is a Central European country and part of the European Union. Germany is 357,012 square kilometers which, in this historic extension of land that is currently an example of development, has a population of 82 million citizens.

 Germany is one of the iconic film-producing countries with an industry that has developed the technical, artistic and professional elements necessary for the expansion of the seventh art.

German film was especially influential during the years of the Weimar Republic with German Expressionists, such as Robert Wiene (The Cabinet of Doctor Caligari) and Friedrich Wilhelm Murnau. In the 1940s, under Adolf Hitler, important films were produced, such as Münchhausen or the controversial films of the director, Leni Riefenstahl.

Between 1970–1980, directors such as Volker Schlöndorff, Werner Herzog, Wim Wenders, Rainer Werner Fassbinder once again put German film on the international scene with their provocative movies. More recently, films like Das Boot (1981), Run Lola Run (1998), Good bye, Lenin! (2003), Gegen die Wand (Head-On) (2004), Der Untergang (Downfall) (2004) and Das Leben der Anderen (The Lives of Others) (2007) have all enjoyed international acclaim.
This year, Germany hosted us at one of the most important film festivals in the world, the Berlin International Film Festival, also known as the Berlinale.  The Berlinale is a celebration of the seventh art and a clear demonstration that with effort, dedication and fastidiousness it is possible to create large events that promote the production of high quality films that advance internal and external development among nations.