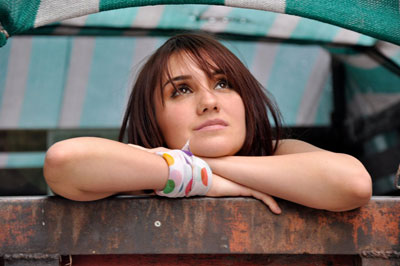 TÍTLE (ORIGINAL): ¿Alguien ha visto a Lupita?
TITLE (English): Has Anyone Seen Lupita?
DIRECTOR: Gonzalo Justiniano
COUNTRY: Chile/Argentina/US/Mexico/Germany
YEAR: 2011
LENGTH: 90 min
FORMATO/COLOR/BW: Digital / Color
LANGUAGE: Spanish & English with subtitles in Spanish
CREDITS
Director: Gonzalo Justiniano
Producer: Daniel de la Vega
Executive Producers: Gonzalo Justiniano, Cristian de la Fuente, Caspar Arnhold, Daniel dela Vega, Diego Dubcovsky
Script: Gonzalo Justiniano, Marina Stavenhagen
Cinematographer: Miguel Bunster
Editor: Carolina Quevedo
Cast: Dulce María, Carmen Salinas, Steve Uzzell, Sergio Allard, Cristián de la Fuente, Angelica Castro

FILM SYNOPSIS
Lupita, an eccentric young Mexican woman is forced to run away from her family and wants to make it to the United States before her family manages to have her committed to a mental institution. This is how the trip begins in which she will take us along to discover a world that is apparently crazier than she is. With her sensuality, innocence and romanticism, Lupita invites us to ponder that fact that life can be lived in a differentsay. "Has Anyone Seen Lupita?" is a romantic tragic comedy full of misunderstandings played out with the exquisite acting of: Dulce María (ex RBD) as Lupita, Cristián de la Fuente as her brother Maxi and Carmen Salinas ('Mejor Imposible', 'Danzón' & 'Hombre en llamas'), as Lupita's fairy godmother, great friend and travel companion in the role of Chepita.

This is the ninth feature film of outstanding Chilean director, Gonzalo Justiniano, whose film include
"B-Happy", "Amnesia", and "Lokas", always surprised with
the special view of the world.
Director's Biography
Justiano won the Prize for First Film in the Biarritz Festival for "Los hijos de la Guerra Fría" (1985) [Children of the Cold War]; Best Latino Director Award in the New York Film Festival for "¿Caluga o menta? (El Niki)"; People's Prize in the Berlin International Film Festival and Best Picture in the Gramado Film Festival for "Amnesia" (1994); the Claqueta Award and best Latin American picture in the San Sebastián Festival, Spain for "Tuve un sueño contigo" (1999) [I Dreamt about You], among other awards.