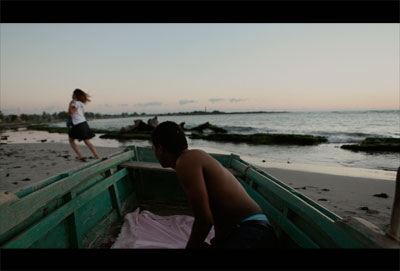 TITLE (ORIGINAL): Del Otro Lado
FILM TITLE (English): The Other Side
DIRECTOR: Yanillyz Perez
COUNTRY: Dominican Republic
YEAR: 2012
LENGTH: 14 min
FORMAT / COLOR /BW: Color
LANGUAGE: Spanish
CREDITS
Producers: John Fiedler, Ben Odell
Co-Producers: Rafael Elías Muñoz, Juan Basanta
Cinematographer: Jaime Guerra
Editors: Thomas Lavergner

FILM SYNOPSIS
In Santo Domingo, while some are dreaming of pursuing another life in the United States, Miguel , a young Dominican who earns a living by selling food on the street, dreams of building his household on his island with his childhood love Laura, a young Dominican who lives under her grandmother's authority. When the grandmother's discovers her relationship with Miguel, Laura's life is prone to severe pressure by her family, and changes forever.
Director's Biography
Yanillys Perez is a Dominican Actress-Director. She studied acting in the Dominican Republic « Bellas Artes », London, New York, and Paris. She started her career as an actress to gradually become a self-taught writer and director.
In 2011 she writes, directs and produces "Del Otro Lado" a Dominican story, shot and produced in the Dominican Republic with a French Co-production. She is in Paris where she is currently working on her first feature film as a director.