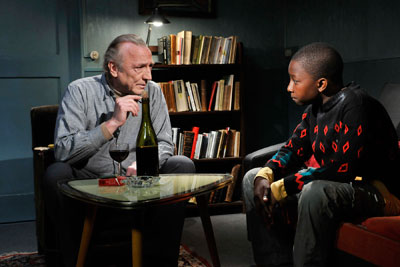 TITLE (ORIGINAL): Le Havre
TITLE (English): Le Havre: The Port of Hope
DIRECTOR: Aki Kaurismäki
COUNTRY: France, Finland
YEAR: 2011
LENGTH: 93 min
COLOR/B/W: 35mm/Digital / Color
LANGUAGE: French with Spanish subtitles
CREDITS
Director: Aki Kaurismäki
Producer: Aki Kaurismäki
Executive Producer: Hanna Hemilä
Script: Aki Kaurismäki
Cinematography: Timo Salminen
Editor: Timo Linnasalo
Cast: André Wilms, Kati Outinen, Jean-Pierre Darrousin, Blondin Miguel, Elina Salo, Evelyne Didi, Quoc-Dung Nguyen, Laïka

FILM SYNOPSIS
In this affectionate portrait of the French port city LeHavre, we see how destiny throws a young African refugee, Idrissa,  into the path of Marcel Marx, a bohemian who shines shoes. With innate optimism and firm support from his community, Marcel stands strong against the authorities who want to deport Idrissa.
The film is like a political fairytale that exists somewhere between the reality of contemporary France and the charming imagination of Aki Kaurismäki.  The director offers us a look at the moral and financial crisis facing refugees who have been traveling to Europe for many years now, in search of a better future. Funny and moving and with his trademark deadpan humor intact, Kaurismaki creates a world of solidarity, optimism and love. Le Havre: The Port of Hope won the FIPRESCI Prize and the Ecumenical Jury Prize at Cannes in 2011.
Director's Biography
Aki Olavi Kaurismäki was born in 1957 in Orimattila, Finlandia. Kaurismäki is a writer and film director. He earned a degree in Media and Communications at the University of Tampere. He began in film working as a co-director in movies made by his brother, Mika Kaurismäki. His own films include: "Crime and Punishment", "Juha", "Ariel", "Lights at Sunset" and "The Man with No Past".