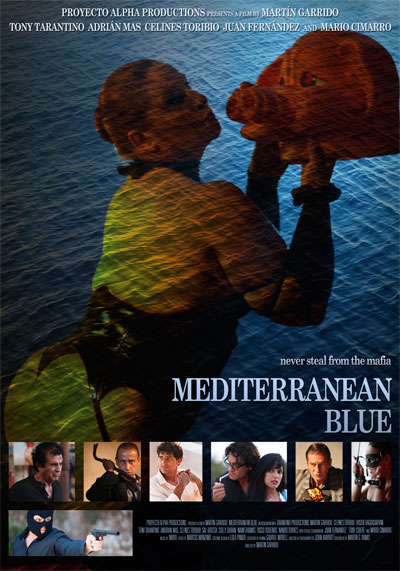 TITLE (ORIGINAL): Mediterranean Blue
TITLE (English): Mediterranean Blue
DIRECTOR: MARTÍN GARRIDO
COUNTRY: SPAIN
YEAR: 2012
DURACIÓN: 1.49 HPM.
FORMAT/COLOR/BW: Color
LANGUAGE: English with Spanish subtitles
CREDITS
Producers: Toni Tarantino, Arsen Bagdasarian, Martín G. Ramis, Martín Garrido Barón
Executive Producers: Alejandro Moreno Vázquez y Guillermo Naveiras Llorente
Screenwriter: Martín G. Ramis
Editor: Marcos Manzano
Cinematographer: John Harrat
Music: Miiro
Design of sound: Antonio de Benito
Cast: Tony Tarantino, Adrián Mas, Celinés Toribio, Sal Batista, Solly Durán, Naim Thomas, Juan Fernández, Tony Isbert y Mario Cimarro
FILM SYNOPSIS
Xim is a young spaced out guy who earns his living as a waiter in Mr. Ramón's nightclub. Ramón is a small time
mafioso
drug dealer. One night, Ramón receives a big shipment of cocaine and Xim decides to steal it, involving three other people in his plan: a nightclub entertainer, an alcoholic and a young prostitute. The three will disappear somewhere until Xim suggests they go to Mallorca where they'll live like three siblings. Tony, the entertainer, and Nina the prostitute, reluctantly accept. They get set up in a luxurious hotel in Mallorca. Meanwhile, Tony and Nina decide what the want to do with their lives, Xim visits his brother Justo and sister Lourdes who has not forgiven him for killing her father.
Director's Biography
Martín Garrido was born in Barcelona but raised from an infant in Mallorca. He studied at the Fine Arts and Dramatic Arts. He worked as an actor in various theater companies and directed some of them. At fifteen, he shot his first medium-length movie in video which was selected for various film festivals. He shot more than 50 movies in video until 2003 when he directed "H6, diario de un asesino", his first feature.