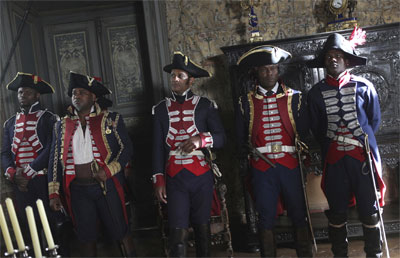 TITLE (ORIGINAL): TOUSSAINT LOUVERTURE
TITLE (English): TOUSSAINT LOUVERTURE
DIRECTOR: Philippe Niang
COUNTRY: France
YEAR: 2011
LENGTH: 180 minutos/ 2 partes x 90 min/2 parts, 90 min each
COLOR/BW: HD/COLOR
LANGUAGE : French w/English subtitles
CREDITS
Director: Philippe Niang
Producer: ELOA PROD
Executive Producers: France Zoda and Jean-Lou Monthieux
Screenwriter: Nathalie Alquier
Cinematographer: Dominique Brouilleret
Editor: Jean-Daniel Fernandez Qundez
Composers: Michel Amsellem, Krishoo Monthieux, Christophe Monthieux
Sound Designer: Jean Minondo
Principal Cast: Jimmy Jean-Louis, Aïssa Maïga, Arthur Jugnot, Pierre Cassignard, Eric Viellard, Magloire Delcros-Varaud, Philippe Caroit, Féodor Atkine, Hubert Koundé, Thierry Desroses

FILM SYNOPSIS
Toussaint Louverture was 8-years-old when he saw his father violently thrown into the sea of the Cap of Santo Domingo by a slave buyer who thought he was too old and useless. Toussaint Louverture will keep these horrible memories in his mind and they will be the foundation for his revolution and rebellion years later. At this time, a new master, Bayon de Libertad who will recognize at once his particular qualities, bought him. Bayon will allow him to learn reading and writing and grant him his freedom when he is 33. When he is in his 50s, he begins to organize and lead a Revolution to free his people and country becoming «The Black Spartacus», against his wife's objections who is unable to convince him to change his mind. He leaves her and his two sons and joins the slaves, soon becoming their leader. He first joins the Spanish Army against the French Army. After a military success, some will be jealous of him, Biassou, for example. Soon, the French will propose to make him a general and he becomes General Toussaint Louverture. He will go on to lead his troops with Moyse, Christophe and Dessalines. He proclaimed a Constitution for his country, which worried Bonaparte who became angry with him and took this as an independent and terrible act. As a result, Bonaparte will have him deported to France where he dies in Fort de Joux in France in April 1803. One year later, on January 1, 1804, General Dessalines will declare Independence for Santo Domingo making it part of Haiti. Toussaint Louverture is an emblematic and universal hero.
Director's Biography
As a student in Nice, France, Phillipe Niang went to High Cinematographic Studies Institute then later became an assistant for Television. He went on to direct numerous documentaries before making his first feature films. He also worked as a scriptwriter for TV programs such as Mammy Mamours shot in Senega and Gaffe Loulou, for which he won a Golden Angel award at the International Festival of Nice. He is the creator of a famous TV show called Josephine, The Good Angel. He wrote Black Baby in a White Cradle, which was selected for the TV Festival of Luchon. He then wrote The Big brothers. He then met two producers of Eloa Prod, France Zobda and Jean-Lou Monthieux, with whom he shares the same convictions and began to write and direct with them. For them, he writes and directs Prohibited Love, which was selected in the Pan-African Festival in Burkina Faso ( FESPACO),  the Pan-African Film Festival in New-York and Vues d'Afrique in Montreal. Recently Toussaint Louverture was selected in the French Festival of Luchon.