"El Retrato de un Santo" Wins the First Short Film Contest Sponsored by Indomina's 'Dominicans Have Talent'
Santo Domingo, June 30, 2010
Marcel Founder, a student of the Global Media Arts Institute (GMAI), is the winner of the first short film contest sponsored by "Dominicans Have Talent." The Indomina Group created the competition to inspire young Dominican talent in the area of film.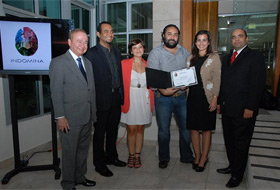 Marcel Founder's short film, "El Retrato de un Santo," (Portrait of a Saint" was chosen as the winner in the first such competition sponsored by "Dominicans Have Talent."
The contest was created and sponsored by the Indomina Group.
The contest was presented at the 4th Dominican Republic Global Film Festival (DRGFF), with the idea of promoting the development of the national film industry of the Dominican Republic.
The winner is being awarded up to $15,000 worth of film production service which is being contributed by the Indomina Group.
The contest served as an opportunity to participate in a pitching workshop directed by Luis Berbejo, well-known script writer of such films as "REC" and "Quarantine."
Following the workshop, participants were invited to show their projects to a specialized jury which then chose the finalists. These first steps of the process were followed by an extensive evaluation process in which the jury selected Marcel Founder as the winner.
His project had an outstanding script and met "the best criteria for originality, quality and production viability."
Indomina Group is a vertically integrated independent studio created in 2008 by CEO and executive director Jasbinder Singh Mann. Operating in the Dominican Republic and Los Angeles, the Indomina Group's global operations include the production and distribution of motion pictures, television, music, interactive games and the ownership of world-class studio facilities and production services.