Forty Four Films Selected to Compete in the 3rd Short Film Competition
Santo Domingo, September 23, 2011
Forty four films were selected to compete in the 3rd Short Film Competition. Among these, eleven finalists will be selected and announced on November 10th then shown throughout the duration of the 5th Edition of the Dominican Republic Global Film Festival.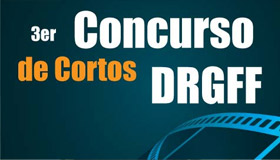 Organizers of the Dominican Global Film Festival (GRGFF) announced the names of the 44 films selected to compete in the Short Film Competition, eleven of which will be selected as finalists.
The eleven finalists will be announced on November 10 and will be shown daily at this year's DRGFF in the various film venues around the country. The Dominican cities hosting this year's Festival are: Santo Domingo, Santiago, Nagua, Higüey and Puerto Plata.
First, second, third place winners of the competition will be announced at the closing event of the 5th edition of the DRGFF, on Sunday November 20th.
The winners will receive an iMac and will be given the opportunity by Panamericana Productions to make a short film. will receive a scholarship to take a workshop at the Film School of the University of California Los Angeles (UCLA) and will be offered the chance to take a workshop at the School of Film and Television in San Antonio de los Baños, Cuba (EICTV).
The genre of the short films entries include fiction, animation, documentary and fantasy.  DRGFF organizers accepted entries up until the deadline of September 20, 2011.
Selection of the films was done by a jury comprised of national and international film professionals.