Dominican Republic Global Film Festival Meets with more than 120 Aspiring Volunteers in Preparation for its 5th Edition
Santo Domingo, September 6, 2011
More than 120 young people participated in the first meeting of volunteers and festival organizers to receive their assignments and to discuss the upcoming film event. A second meeting with new volunteer candidates will be held on Tuesday September 20th.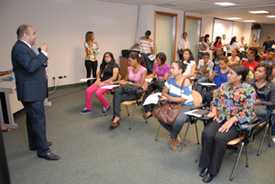 Organizers of the Dominican Republic Global Film Festival met with 120 aspiring volunteers who seek to participate in the 2011 edition. They received information on the type of work they will be expected to do during the film event.
Omar de la Cruz, Director of the Festival, participated in the meeting along with Yvette Marichal, Director of Public Relations and Marketing; Taína Rodríguez, Director of Logistics and Volunteers; Elina María Cruz, Director of Communications and Boni Guerrero, Volunteer Coordinator.

Young university students, in the majority, as well as professionals from other areas gathered in two classrooms at the Fundación Global Democracia y Desarrollo (FUNGLODE) to hear information about the role they will play and their assignments as volunteers at the Dominican Global Film Festival (DRGFF).
Festival directors urged the volunteers to reproduce the same experiences of past DRGFF editions in which they played a fundamental role in achieving the outstanding success of the past four Film Festivals.

A second meeting, scheduled for Tuesday September 20th, will allow many other volunteer candidates to present their applications. Prior to the upcoming meeting, those wishing to attend must confirm their presence by writing to: voluntarios@festivaldecineglobal.org.
Volunteers are on the front line of the event, alongside the DRGFF team, filmmakers, producers, panelists, sponsors and other personalities involved every year in this wonderful gathering of the seventh art.   
Volunteer candidates can opt to work in a variety of areas which include working as guides, photographers, permanent support staff in the FUNGLODE offices, support staff at the hotel headquarters, general support, technological assistant, press assistant, bilingual interpreter and translator.

The 5th Dominican Global Film Festival will take place from Tuesday November 15 to Sunday November 20, 2011.
.