Bling: A Planet Rock

Bling is a 90-minute documentary that takes a hard-hitting look at how the flashy world of commercial hip-hop played a significant role in the 10-year civil war in Sierra Leone, West Africa. The term "bling" refers to the shine emanating from polished diamonds that represent the status symbol for hip-hop luminaries and fans alike. Bling follows three hip-hop celebrities: Raekwon (Wu Tang Klan), Paul Wall and Reggaetón king, Tego Calderon.
They visit the capital of Freetown where they survey the devastated country, meet the hip-hop community, as well as encounter refugees and former child soldiers first hand. The stars are visibly affected by the accounts of the atrocities suffered at the hands of the rebels that included rape, torture and amputation. The film effectively captures the hip-hop community's reaction to the human rights violations and the complexities that still exist, while presenting a much needed global perspective for our youth through the dominant voice of hip-hop.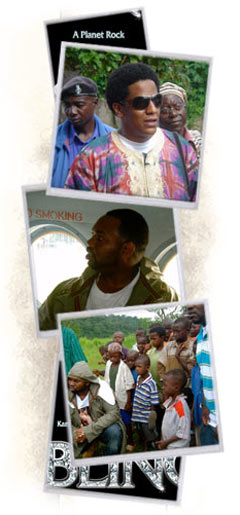 Original: Bling: A Planet Rock
English: Bling: A Planet Rock
Country Of Origin: United States
Year Of Completion: 2007
Running Time: 87 minutes
Format: Digibeta, Color
Language: English, Spanish, Krio / English Subtitles
Director: Raquel Cepeda
Producers: Article 19 Productions, VH1/MTV Networks, United Nations Development Programme
Editor: John Kirby
Co-producers: Djali Rancher Productions
Writer: Raquel Cepeda
Cinematographer: John Pirozzi
Music: J-Force and Joel Hamburger
Cast: Tego Calderón, Raekwon, Paul Wall, Ishmael Beah, Kanye West, others
Director's Biography


Raquel Cepeda, a New Yorker born of Dominican parents, is an award-winning editor and multi-media journalist, producer and filmmaker. Under the umbrella of her production company, djali rancher, Cepeda is also a multicultural media consultant specializing in translating news, and social and global issues into an authentic language that is palatable to younger generations—18-34 years of age—stateside and abroad.

Cepeda is the writer, director and co-producer of "Bling: A Planet Rock," an 87 minute documentary about American hip-hop culture's obsession with diamonds—"blinging"—and all its social trappings, and how this infatuation correlated with the ten-year conflict in Sierra Leone, West Africa. Cepeda was nominated for a 2008 NAMIC Vision Award (National Association for Multi-ethnicity in Communications) in the News and Informational category.

"Bling: A Planet Rock" follows three rappers—Paul Wall, Tego Calderon, and Raekwon—as they trek to the country to meet the survivors, perpetrators and diamond miners in the country. The film also features Kanye West, Juelz Santana, Jadakiss and former child soldier-cum-author Ishmael Beah (A Long Way Gone). A modified version for television of "Bling…" premiered under the title "Bling'd: Blood, Diamonds and Hip-Hop" on VH1 on February 22, 2007 (3.3 million viewers).

Cepeda began laying the foundation of her film in December 2001, when she was serving as the editor in chief of Russell Simmons' Oneworld Magazine. In 2005, VH1 signed on Executive Producers, as well as the United Nations Development Programme (UNDP). The theatrical version of "Bling: A Planet Rock," is distributed by Image Entertainment, released on September 18, 2007.

Raquel Cepeda also served as a creative consultant on "From Mambo to Hip-Hop," directed by Henry Chalfant ("Style Wars") for PBS (2007).

Currently, Cepeda is in production on "BLOW US UP!", a wartime concert documentary starring platinum selling rapper Paul Wall and TV Johnny who will journey into the past to see the future—in Iraq and Johnny's homeland, Vietnam.

Following in the tradition of the highly acclaimed "Bling: A Planet Rock," "BLOW US UP!" uses the medium of hip-hop to engage a new audience in the history of two American wars, a generation and musical genre apart from each other.

In addition to pitching, creating and developing pilots for television, Cepeda is also laying the groundwork for the last installation of her three-part international hip-hop series, a yet-titled project in South Africa under her production company, djali rancher productions, LLC.

She lives in New York City with her eleven year-old daughter djali.