Frozen River

A desperate woman living in upstate New York resorts to smuggling illegal immigrants into the United States as a means of making ends meet in first-time feature director/screenwriter Courtney Hunt's emotionally wrenching drama. Ray Eddy is in an impossible position; it's two days before Christmas and her husband has suddenly disappeared with all of the family savings. Now, as the newly single mother of two, she realizes the futility of attempting to cover the house payments on her meager Yankee Dollar Store wages. While searching for her husband, Ray meets street-smart Mohawk Lila Littlewolf. Lila, too, has been struggling to keep her head above water amidst economic despair, and has lately been earning a living by smuggling illegal immigrants into the U.S. As fate would have it, Ray's Dodge Spirit may just be the only thing the destitute mother can count on anymore, and as this unlikely pair gas up the tank for a daring dash across the iced-over St. Lawrence River, their fates become forever intertwined in ways that neither could have ever anticipated. Grand Jury Prize, Best Dramatic Feature, Sundance Film Festival 2008.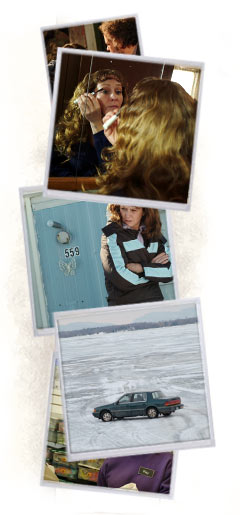 Spanish Title: Río helado
English Title: Frozen River
Original: Frozen River
Country of Origin: USA
Year of Completion: 2008
Running Time: 97 min.
Formato/color/BN - Format/color/BW: 35mm, color
Idioma/Language: Inglés, subtítulos en español/English, Spanish Subtitles
Director: Courtney Hunt
Producers: Heather Rae, Chip Hourihan
Productores ejecutivos/Executive Producers: Charles S. Cohen, Donald A. Harwood.
Screenwriter: Courtney Hunt
Cinematographer: Reed Morano
Editor: Kate Williams
Music: Peter Golub
Cast: Melissa Leo, Misty Upham, Charlie McDermott,
Mark Boone Junior
Director's Biography


Courtney Hunt holds an MFA from Columbia University's Film Division. Her thesis film, Althea Faught, a short about the American Civil War, which she wrote and directed, was purchased by PBS in 1996 and aired on American Playhouse, and screened in many film festivals. Hunt's second short film, Frozen River, premiered in the New York Film Festival in September, 2004. Frozen River is her first Feature Length Film.