Teo's Journey

Teo's Journey is the harrowing story of friendship between two boys who, trapped on the border of the United States and México, have to search for their missing father on their own, although this means crossing the desert that has taken the lives of so many undocumented travelers. 12 year-old Teo, travels toward uncertain destiny accompanied by his father, whom him had not known until the man showed up in the kitchen of his home to claim and take the boy with him. Now, father and son illegally cross the US-Mexico border, assisted by an unscrupulous coyote. At night, they are attacked by bandits and robbed and Teo runs away, been separated from the group. Chuy, a coyote who is the same age as Teo, finds him and helps him out of the desert. Teo has no other choice but to wait by the security post on the Mexican side, in the hopes that his father will appear. Day after day defeated men and women can be seen coming back over the border. Meanwhile a friendship is forged between the two boys. Premiered at the 2008 Guadalajara Film Festival.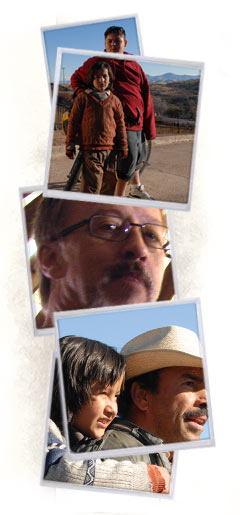 TITLE (Spanish): EL VIAJE DE TEO
FILM TITLE (Original): EL VIAJE DE TEO
FILM TITLE (English): TEO'S JOURNEY
COUNTRY OF ORIGIN: Mexico
YEAR OF COMPLETION: 2007
RUNNING TIME: 90mins
FORMAT/COLOR/BW: 35mm, Color
LANGUAGE: Spanish
Director: Walter Doehner
Producers: Lourdes García, Luis Urquiza,
Astillero Producciones, IMCINE
Screenwriters: Leo Mendoza, Silvana Zuanetti,
Walter Doehner
Cinematography: Guillermo Granillo
Editing: Walter Doehner, Fernando Fernández
Music: Ricardo Martín
Cast: Erick Cañete Guerrero, Andrés Márquez,
Damián Alcázar, Siverio Palacios, Joaquín Cosío,
Raúl Méndez.
Director's Biography


Walter Doehner has written and directed Íntimo terror (1989) and La habitación azul, (2001) winner of the Círculo de Plata of the Bogota Film Festival and the Diosa de Plata for the Opera Prima in México. La habitacion azul was listed in the 10 most viewed movies of the history in Mexico.