I Am Because We Are

In the African nation of Malawi, disease, poverty and famine have taken a horrible toll, especially on young people -- in a country of twelve million people, one million are orphaned children. In 2006, pop singer Madonna began studying the crisis in this country, and decided to use her wealth and celebrity to help; she helped finance the construction of a home for orphans, founded a relief organization and she and her husband adopted a boy from Malawi, David Banda Mwale, whose mother had died. Now Madonna has written and produced I Am Because We Are, a documentary that attempts to demonstrate at the need for action by profiling eight children growing up without parents; these youngsters long for a better life and are strive to remain optimistic about the future despite the long odds fate has set against them. I Am Because We Are also features interviews with a number of people, including Bill Clinton, Bishop Desmond Tutu, and Jeffrey D. Sachs. I Am Because We Are received its North American premiere at the 2008 Tribeca Film Festival.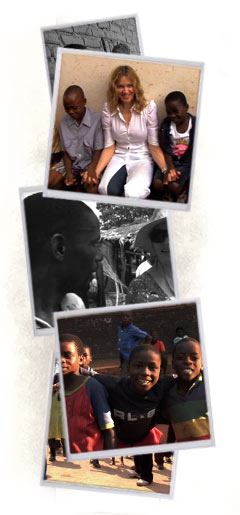 FILM TITLE (Spanish): I AM BECAUSE WE ARE
FILM TITLE (Original): I AM BECAUSE WE ARE
FILM TITLE (English): I AM BECAUSE WE ARE
COUNTRY OF ORIGIN: USA
YEAR OF COMPLETION: 2008
RUNNING TIME: 85 minutes
FORMAT/COLOR/BW: 35mm, Color
LANGUAGE: English, Chichewa/Spanish Subtitles
Director: Nathan Rissman
Producers: Madonna, Angela Becker
Executive Producer: Madonna
Screenwriter: Madonna
Cinematography: Nathan Rissman, Kevin Brown, John-Martin White, Grant James
Editing: Danny B. Tull
Music: Patrick Leonard
Featuring: Dr. Jeffrey Sachs, Desmond Tutu, Bill Clinton, Dr. Paul Farmer, Madonna
Director's Biography


Born and raised in Seattle, Nathan Rissman moved to London and worked for Madonna as a research assistant, art director, video archivist, and other miscellanous work. I Am Because We Are is his directorial debut.