Young at Heart

Established in 1982, the Young@Heart Chorus is not your typical vocal group.
Touching and delightful, the core story of Young@Heart is entirely real. Stephen Walker's documentary dives right into the Northampton, Massachusetts-based retirees' preparations for their upcoming concert tour, "Alive and Well." The demanding musical director and his singers are struggling with a version of Sonic Youth's "Schizophrenia" while practicing their own impassioned reinterpretation of James Brown's "I Feel Good." As with any creative enterprise, drama is abundant from the usual sources, such as personality clashes and misinterpreted lyrics, but the seniors' shared love of performing unites them in making the most of their golden years. Filled with humor and a variety of musical styles (the group's music videos are charmingly hilarious), Young@Heart is pure inspiration, reminding us never to judge a book by its cover and – whatever age we may be – to always pursue our dreams. Audience Award, Los Angeles Film Festival.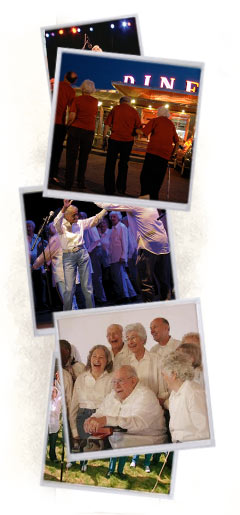 Spanish Title: YOUNG@HEART
Original: YOUNG@HEART
English Title: YOUNG@HEART
Country of origin: United Kingdom
Year of completion: 2007
RUNNING TIME: 107min.
Format/Color/BW: 35mm, color
Language: English, Spanish Subtitles
Director: Stephen Walker
Producer: Sally George
Executive Producers: Hannah Beckerman, Jane VilliersDirector de Cinematography: Ed Marritz
Editor: Chris King
Sound: Mark Mandler
Cast: Joe Benoit, Helen Boston, Louise Canady,
Elaine Fligman, Jean Florio, Len Fontaine, Stan Goldman, Eileen Hall
Director's Biography


Stephen Walker has directed 23 films for the British television networks BBC and Channel Four. He has also written two books, most recently Shockwave: Countdown to Hiroshima, which reached the New York Times Bestseller List, and King of Cannes, a riotous account of his two weeks at the famous film festival.