Fados

Fados is the new masterpiece from award-winning director Carlos Saura and the latest installment in his musical cycle initiated more than 15 years ago with Sevillianas (1992).Fados opens a new chapter and sets new challenges for the famous director – now 75 - as he attempts to capture the elusivenature of the Portuguese "saudade" and to sketch a faithfulportrait of the Portuguese soul through its most emblematic musical genre.
Using Lisbon as its iconic backdrop, the movie explores the intricate relationship between the music and the city, and fado´s evolution over the years from its African and Brazilian origins up to the new wave of modern fadistas. Under the musical supervision of Carlos do Carmo, the movie features one of the finest "world music" soundtracks to date, gathering the best of new Portuguese talent like Mariza or Camané, together with legends Caetano Veloso and Chico Buarque, and up-and-coming stars Lila Downs and Lura.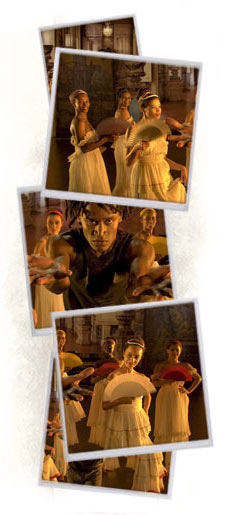 Spanish Title: Fados
Original: Fados
English Title: Fados
Country of Origin: Portugal, Spain
Year of Completion: 2007
Running time: 93 min.
Format/color/BW: 35mm, color
Language: Portuguese, Spanish
Director: Carlos Saura
Producers: Ivan Dias, Luís Galvão Teles, Antonio Saura
Screenwriters: Carlos Saura, Ivan Dias
Cinematography: José Luis López-Linares,
Eduardo Serra
Editor: Julia Juaniz
Sound: Daniel Bekerman
Cast: Mariza Camané, Carlos Do Carmo, Cuca Roseta. Césaria Evora, Catarina Moura, Argentina Santos, Maria De Nazaré, Vicente Da Câmara, Carmo Rebelo De Andrade, Ana Sofia Varela, Pedro Moutinho, Ricardo Ribeiro, Ricardo Rocha, Nbc (Rappers), Sp (Rappers), Wilson (Rappers), Miguel Poveda, Caetano Veloso, Chico Buarque, Toni Garrido, Lura, Lila Downs
Director's Biography


From Spain, Carlos Saura is an internationally renowned filmmaker. La caza (1965), Peppermint frappé (1967), La prima Angélica (1973), Cría cuervos (1975), Elisa, vida mía (1977) and Deprisa, deprisa (1980) won prizes at many international festivals. Mamá cumple cien años (1979) garnered the Silver Shell at San Sebastian. His other masterpieces include: Bodas de sangre, Carmen, El amor brujo, El Dorado, ¡Ay, Carmela!, ¡Dispara!, Flamenco, Taxi, Pajarico, Tango, Goya en Burdeos, Buñuel y la mesa del Rey Salomón, Salomé, El 7º día and Iberia.