Budda Collapsed out of shame

The beauty and grief of present-day Afghanistan receives epic and lyrical treatment from 19 year old Iranian filmmaker Hana Makhmalbaf. Beginning with footage of the Taliban's notorious detonation of giant statues of Buddha near Bamian, the story records the journey of a six-year-old girl, Baktay (Nikbakht Noruz), who is eager to go to school to "learn funny stories."
Every day Baktay is challenged to go to school by her neighbour's son who reads in front of their cave. Having found the money to buy a precious notebook, and taking her mother's lipstick for a pencil, Baktay is determined to attend school. On her way, the boys harass her and their games emulate the terrible violence that has always surrounded them. The boys want to stone the little girl, to blow her up as the Taliban blew up the Buddha, to shoot her like Americans. Will Baktay be able to escape these violent war games and reach the school? Hana Makhmalbaf's mature direction poetically -- and with humour, champions Baktay's will and determination to self-empowerment and equality, providing hope for oppressed girls in desolate areas. Buddha Collapsed Out of Shame toured to many international film festivals, and received the Crystal Bear for the best first feature and the Peace Film Award in Berlin, Special Jury Award in San Sebastian, and the Woman & Equality Award at the Thessaloniki Film Festival.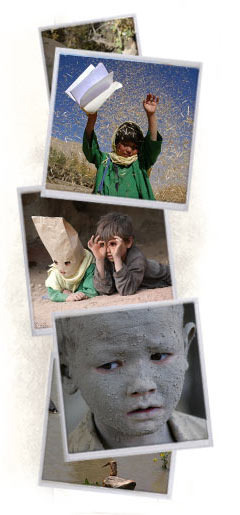 Spanish Title: BUDA EXPLOTÓ POR VERGÜENZA
Original: BUDA AZ SHARM FORU RIKHT
English Title: BUDDHA COLLAPSED OUT OF SHAME
Country of Origin: Iran/France
Year of Completion: 2007
Running time: 81 min.
Format/color/BW: 35mm, color
Language: Farsí / Spanish subtitles
Directed by: Hana Makhmalbaf
Producer: Maysam Makhmalbaf
Scripwriter: Marziyeh Meshkini
Cinematographer: Ostad Ali
Editor: Mastaneh Mohajer
Music: Tolib Khan Shahidi
Cast: Nikbakht Noruz, Abdolali Hoseinali,
Abbas Alijome.
Director's Biography


Hana Makhmalbaf was born in Tehran. Her first short film, The Day My Aunt Was Ill, was presented at Locarno Festival in 1997, when Hana was only 9. At the age of 14, she made the documentary Joy of Madness, about the shooting of her sister's film At Five in the Afternoon, and at the age of 15 published her first book of poems, Visa for One Moment. Buddha Collapsed Out of Shame is her first feature.